Dear Church Family,
During these troubled times, we want to serve you in as many ways as possible.
Although our church campus is largely closed to the public, we are still available by email at info@firstpressuncity.org or by phone at 623.974.3605.
Our Deacons regularly reach out to those in their parishes. If you do not yet have a Deacon assigned to you, call or email the church office to ask for one.
The text of my update emails to congregants and stories from our parishioners can be read on our Facebook page (http://www.facebook.com/firstpressuncity/ ).
Though we cannot meet together physically, you can access our worship service videos starting at 9:00 am every Sunday:
The videos will remain online for those who are unable to join us at the scheduled worship time.
We also offer live video chat on Sunday mornings at 10:00 am, during what would have been our Coffee Hour. You can join us on your computer or smartphone through Zoom; email me at tomt@firstpressuncity.org , and we will send you an invitation to set up Zoom and join us by videoconference to discuss the morning's service and anything else that is on your mind.
And, as always, our Prayer Partners team and Stephen Ministers are available to pray for and with you over any concerns you may have. Call or email me or the church office if you are in need of one of these ministries.
Please let us know if we can help you in any other way.
Here is the information on when and how we can begin to meet together again at the church building:
Because each of you is valuable to our church family, because we do not want to endanger anyone's health, and because the infection rate is still rising in our state, we will not meet together for worship on campus until the beginning of November. Meanwhile, we will continue to provide worship services online.
Norma has set up online giving for those who would prefer to send tithes and offerings that way. It is under the "Giving" tab on the navigation menu above.
We have contracted with Arizona Stage and Sound to set up online streaming of worship services for when we begin "regular" services again, so that those who cannot or do not want to come to the church building can continue to worship with us. All the equipment has been received and installation is almost complete.
When we begin to worship together in person, we will need to follow essential safety precautions, including worshiping in Swain Hall with safe spacing of chairs, careful sanitizing, offering plates set by the door rather than passed around, and the required wearing of masks. We anticipate that we will also take everyone's temperature before they enter.
We will not hold an in-person "Coffee Hour" for at least the first month after we begin worshiping together at the church.
Some small groups began to meet on campus in July, with masks, social distancing, and post-meeting cleaning.
Please continue to pray for wisdom for our elders and deacons and staff as we seek to lead this church through this difficult time in ways that honor God, that strengthen our faith, and that care for each person.
I pray that you will know Christ's closeness to you,
Pastor Tom
Growing in the Spirit, Committed to Service, Sharing the Love
First Presbyterian Church of Sun City is a warm, welcoming congregation affiliated with the Presbyterian Church (USA), the Synod of the Southwest, and the Presbytery of Grand Canyon. We are also a Stephen Ministry church. We celebrated our 50th anniversary in 2013. Our services are quite traditional, but our unofficial dress code is "Sun City casual."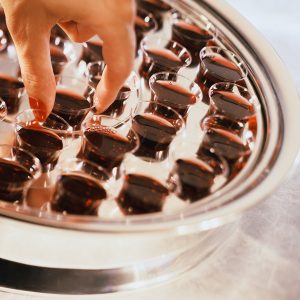 Currently worship starts online at 9:00 am, with virtual communion on the first Sunday of each month. Online "Coffee Hour" chat follows.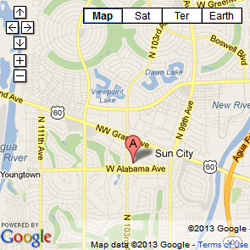 We are located just north of the intersection of 103rd Avenue and Alabama Avenue in Sun City, about 1/2 mile south of Grand Avenue.
Prayer, Bible study, men's and women's groups, Christian ed, a vibrant music program, and frequent fellowship events sustain us.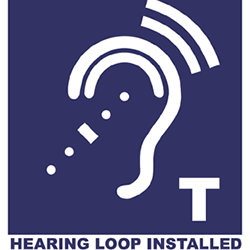 Our Sanctuary, chapel, and social hall have hearing loops, and assisted hearing devices are available. All bulletins use large print.